Top Ten Tuesday is hosted by That Artsy Reader Girl
This week it is all about the books we love that we don't think get enough love. This was a really interesting topic to me since I think I tend to read a lot of the popular books so I had a lot of fun looking through my favorite books and trying to find ones I think need more attention and love. So here are some of my favorite hidden gem books.
---
1) Love Lines by S. Walden
Arrive at work at 7:58 A.M. sharp. Check. Count forty-seven steps to cubicle. Check. Arrange pens in their red-blue-black-green-purple order of importance. Check. Apply hand sanitizer before opening email. Double check.

And that's just the first few minutes of her work day.

Thirty-one-year-old proofreader Bailey Mitchell is a slave to her tics. She inherited Obsessive Compulsive Disorder from her father, and it's done nothing but inhibit her love life. She's run the gamut of boyfriends—none of them willing or able to cope with her condition.

Enter 32-year-old Reece Powell, her new coworker at Beach Elite Marketing Firm. He's more than willing to cope. He finds her habits cute and quirky… for now. Reece wins her over, and life coasts along for them until Bailey experiences a devastating blow. Tragedy exacerbates her OCD, and Reece realizes her tics aren't so cute and quirky anymore. Just like all the others, he has the choice to leave.

But Reece isn't like all the others.
Love Lines I originally read back in 2014 but I actually reread this last year (which is huge I don't reread) and I loved it, even more, the second time. This was my first time reading a book with a character that portrayed OCD and I think it was done well (I'm not Own Voices though). I really loved both of the main characters in this book Reese was such a sweetheart and I was obsessed with him. This is a friends to lovers story and I actually remember laughing out loud while reading this which doesn't tend to happen for me often when I am reading. I 10/10 recommend this one.
2)WolfSong by T.J. Klune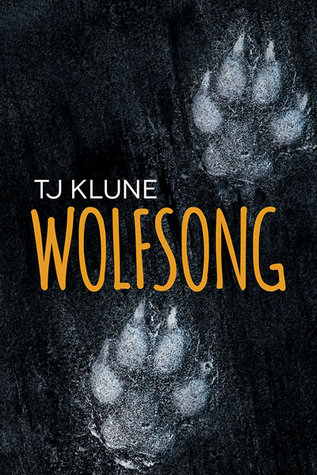 Ox was twelve when his daddy taught him a very valuable lesson. He said that Ox wasn't worth anything and people would never understand him. Then he left.

Ox was sixteen when he met

the boy on the road, the boy who talked and talked and talked. Ox found out later the boy hadn't spoken in almost two years before that day, and that the boy belonged to a family who had moved into the house at the end of the lane.

Ox was seventeen when he found out the boy's secret, and it painted the world around him in colors of red and orange and violet, of Alpha and Beta and Omega.

Ox was twenty-three when murder came to town and tore a hole in his head and heart. The boy chased after the monster with revenge in his bloodred eyes, leaving Ox behind to pick up the pieces.

It's been three years since that fateful day—and the boy is back. Except now he's a man, and Ox can no longer ignore the song that howls between them.
This book was brutal and heartwrenching! I loved it so much and I don't know how to express my feelings but it was amazing! RavenSong cam out a couple months ago and even though I haven't read it yet I honestly can't wait to get my hands on it and get back in this world.
3)Becoming Us by Amy Daws
 The dreaded friend-zone…
The last place Finley ever want to be with college basketball God, Jake LaShae. She is losing her mind trying to figure out what this guy wants from her. Between their late night phone calls, cuddle sessions and him showing up at parties, causing a scene, his mixed signals are giving her whip lash.

When a mind-blowing betrayal knocks the wind out of Finley and she thinks she can't feel any lower, Brody stumbles into her path—barefoot and charmingly sexy.

This boy next door is a breath of fresh air. And he's not shooting her any mixed signals.

But even he has a past. A past that makes him anything but perfect.

When Finley begins to think she's found the one in Brody, will Jake try to make one final play and ruin the game for everyone?
I struggled when it came to putting Amy Daws on this list not because she isn't amazing but because I didn't know which book to share with you guys. So I chose this one Becoming us is the prequel chapter to Finley and Brody's story but you could read A Broken Us first like I did. Amy Daws writes amazing books so no matter where you start you won't be disappointed.
4) Not Enough by Mia Hoddell
 Neve Colvin isn't good enough. As an introvert, her life is a never-ending list of labels and criticism. Pressures to change come from everyone—including the one person she thought would love her unconditionally … her mother. All Neve wants is acceptance, but surrounded by extroverts it's a wish that's nearly impossible to fulfil.

For Neve there's only one solution: anyone disapproving must go. Even if it means only one person will remain.

That person is her lifelong friend Blake Reynolds. He's seen the fights with her mum, the breakdowns caused by attacks on her personality, and the battles for acceptance. Each time she is left shattered and questioning who she is, he's the one to collect the pieces of her broken heart. Shielding her from the cruelty is his only concern. But how can he protect her when Neve is concealing a secret so dark?

Blake thinks he knows everything about her, and with their relationship developing, he assumes Neve trusts him fully. However, there is one memory Neve is too ashamed of to share. Revealing it will test Blake's loyalty beyond what she could ever ask, and Blake is the only friend she can't afford to lose. He's the one person capable of dragging her from the darkness plaguing her, but with pressures to conform increasing, even Blake may not be enough to pull her back this time.
This book was really emotional for me! I'm introverted in a really extroverted family so I felt like I really related to Neve in a way and I really enjoyed that parallel. Blake was one of the most supportive friends I have ever read and even though he was in love with Neve there was no pressure or pushiness.
5) Love in Touch by Lucy May Lennox
 Kassie has felt adrift ever since her dad died when she was in college. Now 24 and living in Seattle, she gets interested in learning sign language through her roommate, a sign language interpreter. One day at a Deaf community event, she sees a young man sitting off by himself. Kassie feels compelled to try signing to him–the fact that he's strikingly handsome doesn't hurt.
Jake has been deaf and blind since birth. His disability has cut him off from the world, but beneath his isolated exterior, is a smart, sweet guy with a dry sense of humor. Despite the odds, he's highly educated, but at 26, he's gotten stuck in a rut, with few friends and no clear career plans. Until a sweet-smelling girl introduces herself to him unexpectedly, and opens up a whole new world to him.

Jake is more intelligent, more genuine than anyone she has met before, and for the first time Kassie starts to feel like her life has some direction. But as their friendship deepens into something more, the difficulty in communicating with each other only grows, and it seems like everyone they know thinks their relationship won't work. How can they come to a deeper understanding of each other, and find a future together?
The premise is what drew me into this book. I've never read a book that featured a character who was blind and deaf before. I really loved the way these characters interacted the only down part for me was the fact that this book was to short I could have read more of their story.
6) Coffee Boy by Austin Chant
 After graduation, Kieran expected to go straight into a career of flipping burgers—only to be offered the internship of his dreams at a political campaign. But the pressure of being an out trans man in the workplace quickly sucks the joy out of things, as does Seth, the humorless campaign strategist who watches his every move.

Soon, the only upside to the job is that Seth has a painful crush on their painfully straight boss, and Kieran has a front row seat to the drama. But when Seth proves to be as respectful and supportive as he is prickly, Kieran develops an awkward crush of hisown—one which Seth is far too prim and proper to ever reciprocate.
Austin Chant has become one of my favorite authors really quickly. I actually read this and immediately read Peter Darling right after. I think I am going into withdrawal from not having any more books by him to read.
7) Positive: A Memoir by Paige Rawl
 In this astonishing memoir, Paige tells a story that is both deeply personal and completely universal—one that will resonate deeply with the thousands of children and adults whose lives have been touched by bullying.

Paige Rawl has been HIV positive since birth…but growing up, she never felt like her illness defined her. It never prevented her from entering beauty pageants or playing soccer or making the honor role.

On an unremarkable day in middle school, while attempting to console a friend, Paige disclosed her HIV-positive status—and within hours the bullying began. She was called "PAIDS," first in whispers, then out in the open. Her soccer coach joked that she was an asset because opposing team members would be too afraid to touch her. Her guidance counselor told her to stop all the "drama," and her principal said she couldn't protect her. One night, desperate for escape, Paige swallowed fifteen sleeping pills—one for each year of her life to date. That could have been the end of her story. Instead, it was only the beginning.

The gripping first-person account of Paige's life will pull in even the most reluctant readers of nonfiction, and her call to action to choose compassion over cruelty will stay with them long after they turn the last page.
I found this amazing book randomly at my library and it was really eye-opening for me. My knowledge of HIV/AIDS was really minimal. Even though I knew there were young people with Hiv I never really thought about there struggle or experience growing up. I recommend you give this ago.
8)Goodnight Tweetheart by Teresa Medeiros
 Abigail Donovan has a lot of stuff she should be doing. Namely writing her next novel. A bestselling author who is still recovering from a near Pulitzer Prize win and the heady success that follows Oprah'stamp of approval, she is stuck at Chapter Five and losing confidence daily. But when her publicist signs her up for a Twitter account, she's intrigued. What's all the fuss?

Taken under the wing of one of her Twitter followers, "MarkBaynard", a quick witted, quick-typing professor on sabbatical, Abby finds it easy to put words out into the world 140 characters at a time. And once she gets a handle on tweets, retweets, direct messages, hashtags, and trends, she starts to feel unblocked in writing and in life. After all, why should she be spending hours in her apartment staring at her TweetDeck and fretting about her stalled career when Mark is out there traveling the world and living?

Or is he?

Told almost entirely in tweets and DMs, Goodnight Tweetheart is a truly modern take on a classic tale of love and loss, a Griffin and Sabine for the Twitter generation
This one was really cute! I'm surprised it isn't talked more about since it is completely in Tweets and DMs. I really love none traditional formats and I had a lot of fun with this one.
9)Bad Penny by Staci Hart
 Nothing good comes after the third date.

Date three is the crucial point when things get real, which is exactly why I bounce out the door, twiddling my fingers at whatever poor boy I've left behind. Because if I stick around, one of three things will happen: he'll profess his undying love, he'll get weird and stalky, or I'll go crazy. Like, Sid and Nancy crazy. Like, chase-him-through-the-streets-begging-him-to-love-me crazy.

Seriously, it's better for everyone this way.

So when I meet Bodie, I figure it'll be the same as it ever was. It doesn't matter that he doesn't put a single string on me. Doesn't matter that he's funny and smart and jacked or that he can play my body like a grand piano. Because even though I'm built for love, love has only carved me up like a Christmas ham.

Resistance is something I can only hang on to for so long, and he has persistence in spades. But my heart isn't as safe as I want to believe, and neither is his. And the second I ignore my cardinal rule is the second I stand to lose him forever
Staci Hart was one of the first authors I discovered when I joined the KU program. This was the first book of her's that I read and I have been binge reading her books, This is also the 2nd book in a companion series.
10)Let's Get Textual by Teagan Hunter
 A wrong number is supposed to be just that–a wrong number.

Delete. Done.

Do not continue to text. Do not flirt.

A wrong number shouldn't be the first person on your mind in the morning, or the last at night…and you're definitely not supposed to talk them into buying a baby goat.

Because that would be weird.

When Zach Hastings and I get into a wrong-number mix-up, we don't follow the rules. We keep texting and flirting, because he's wicked funny and perfectly nerdy and a wonderful distraction.

I'm not looking for love, and Zach definitely had the wrong number.

But maybe…

Maybe he's the right guy.
Teagan is also another KU author I discovered and I loved this book so much. This was the first of her books that I read but since then I've read a couple more and really enjoyed them 100% recommend!
---
This was a lot more fun than I thought it would be. I honestly didn't think I had a lot of books to showcase but I actually had a really hard time picking which ones to share this time around. I had a lot of fun looking through the books I've read.
What are some of your favorite hidden gems?