I love a good tag and back when I started my blog I considered doing tags every Tuesday but never did. So I'm excited to bring back my first blog graphic even though I don't plan on Tag Tuesday being a thing every week I am really excited to incorporate tags back into my blog more frequently.
I'm a big library supporter and I've been seeing this tag around lately and it sounded like fun! Fun Fact I actually have a cassette with this song on it from my library! It was one of the prizes for my libraries summer reading program. I used to listen to it all the time and it's one of my favorite childhood songs.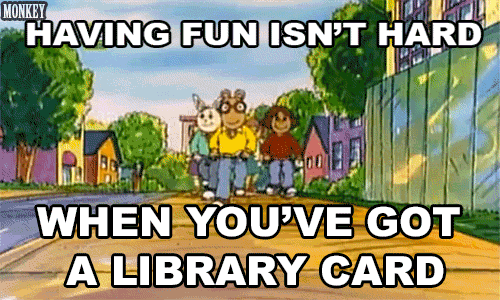 QUESTIONS
1. How often do you visit your local library?
Sadly with my inconsistent job schedule, I don't get to how much I would like to. Normally, I say I go to the library once a month maybe twice if I can squeeze it in.
2. Are you the type of person who checks out more books than you know you can read or are you someone who only checks out the exact amount of books you intend on reading before they are due?



More the merrier. Since I don't get to go as much as I would like I tend to check out a whole bunch at a time so I have plenty of options since I won't get the chance to visit the library again for a couple of weeks at least.
3. How old were you when you got your first library card?
I had my library's trainee card back when I was 3 or 4. My mom used to take me to the once a week to check out picture books and puzzles.
4. Do you go to your library looking for a particular book or do you check out anything that peaks your interest?
I love to browse the shelves at the library. I might have 1 or 2 books in mind when I stop in but I spend most of my time looking randomly from shelf to shelf. I can be lost in the shelves for an hour or more on a good day!
5. Do you use your library to check out just books or do you also check out DVDs, audiobooks, etc.?
In person, I mostly just check out books. My library has a lot of other resources that I've dabbled in but it is really rare for me to pick something up. Sometimes I check out a Playaway Audiobook which is a little portable device with one audiobook on it instead of the cd like audiobooks. The collection is very small at my library for these but sometimes I find something to listen to.
6. From what section of your library do you check out a majority of your books? ( YA, middle grade, adult, nonfiction.)
For sure the YA section! I tend to be able to find a few books easily in this section. The other sections of my main library are a little more jumbled than I would like to find anything easily. All of the genres are jumbled together in the Adult section so it takes me a lot longer to find something that I'm in the mood for.
7. What is your favorite part of using your local library?
I love being able to experiment and try new types of books! When I buy books I tend to err on the side of caution and only pick up books that I know I am going to like so I'm not wasting my money. I've found amazing books just by browsing and since I'm not paying to read these books I feel better about giving up on a book if I'm not enjoying them. I've found some amazing books because of my library I think that's my favorite part.
---
This tag has been around for a really long time so I'm sure a lot of you lovelies have probably already done this tag! However, if anyone would like to try this tag out consider yourself tagged!
~Arya