Hello everybody!
Today I wanted to share with you a project that I decided to jump into starting today! While I was scrolling through Twitter I discovered #CodeNewbie and the rest is history. I fell down a wormhole of people committing to get better in coding and I was so inspired that I knew I had to join in!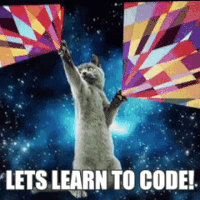 With the Shelter in Place action in Illinois, I haven't been able to do much besides go to work. I'm a Pharmacy Tech so I'm still working full time but I'm not used to not doing anything else. So I am really excited to jump on something that I've always wanted to do. I kind of fell into my current career path and even though it pays well. I know this isn't what I want to do forever and coding has always been a really interesting concept for me. I've played a little bit with coding for my blog but there isn't a lot of control when you have a free WordPress blog.
I always thought that the only way you could be a coder or work in similar fields would be to go to college and spend a whole bunch of money and that isn't something I can do right now. Especially when I don't know what field or parts of coding is what I want to do. So after discovering this hashtag and many others, I want to give it a serious try! I'll never know if coding is right for me if I don't give it a serious try and better now than never.
---
I've been unhappy with my current job for a while now, it might be the company, and I've been considerating a career change in the future. I can't afford to quit my job, it pays well, but I have been looking into what I might want to do in the future and I've always been drawn to coding and I love the challenge of getting my projects to work. I've done some coding in the past years ago, for school, and I loved it! Learning that I don't have to go to school to get in this field is a huge motivator for me and I know that I can do it if I put my mind to it and just do it!
Some of the resources I'm starting with include
Dev– a social media for Tech! It's pretty cool so far!
---
I'll be posting daily on my Twitter! So check out there if you'd like to see how I'm fairing. I'll keep you guys posted here as well every now and again but to keep up to date catch me over on Twitter!